Epaper Hosa Digantha
Hosa Digantha is a Kannada morning daily in Karnataka. \"Hosa Digantha\" has the literal meaning of \"New Horizon\".
With its tag line Rāshtra Jāgrutiya Dainika, meaning \"Daily for national awareness\", Hosa Digantha is a newspaper with nationalist ideology.
Started in the year 1979 from Mangaluru, now has Mangaluru, Bengaluru, Shivamogga and Hubli Editions. The Hubli edition was launched on March 27, 2011, by the Chief Minister of Karnataka Mr. Yeddyurappa.
More Kannada Epapers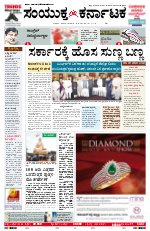 Samyuktha karnataka
Prajavani
Hosa Digantha